700+ Video Lessons & Personal Support to Help You Improve
A STEP-BY-STEP SYSTEM
TO LEARN THE VIOLIN

Stop wasting your practice time on random violin lessons.
Learning violin is a lot easier when you have a step-by-step system to follow. Julia's Violin Academy's Learning System is interconnected and organized to get slightly harder as you progress.
You watch a video lesson, play along, and then click a "Next" button to go to the next lesson. Lessons have multiple camera angles, sheet music, different speeds and everything else you need to learn.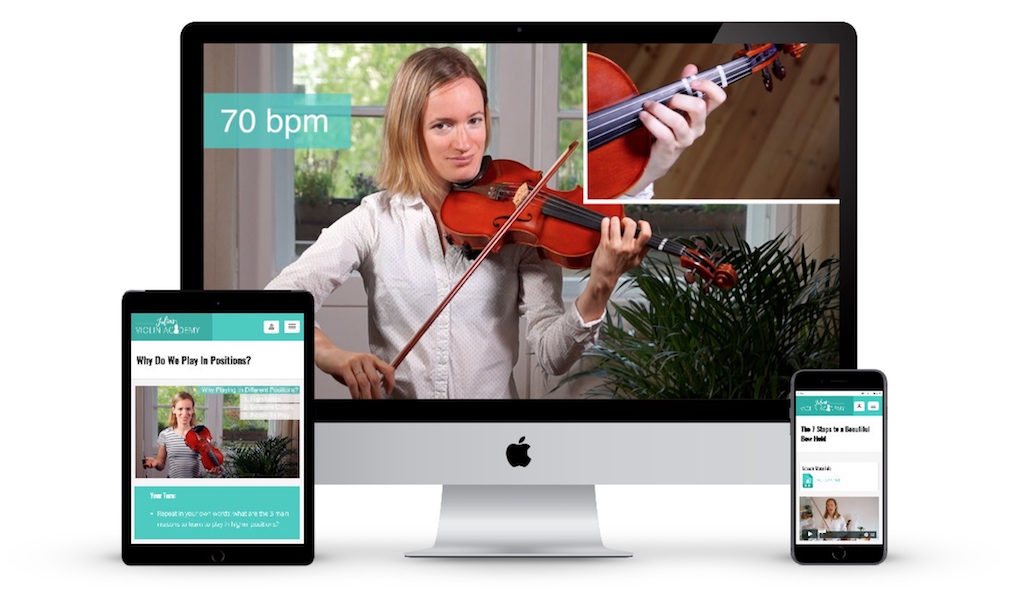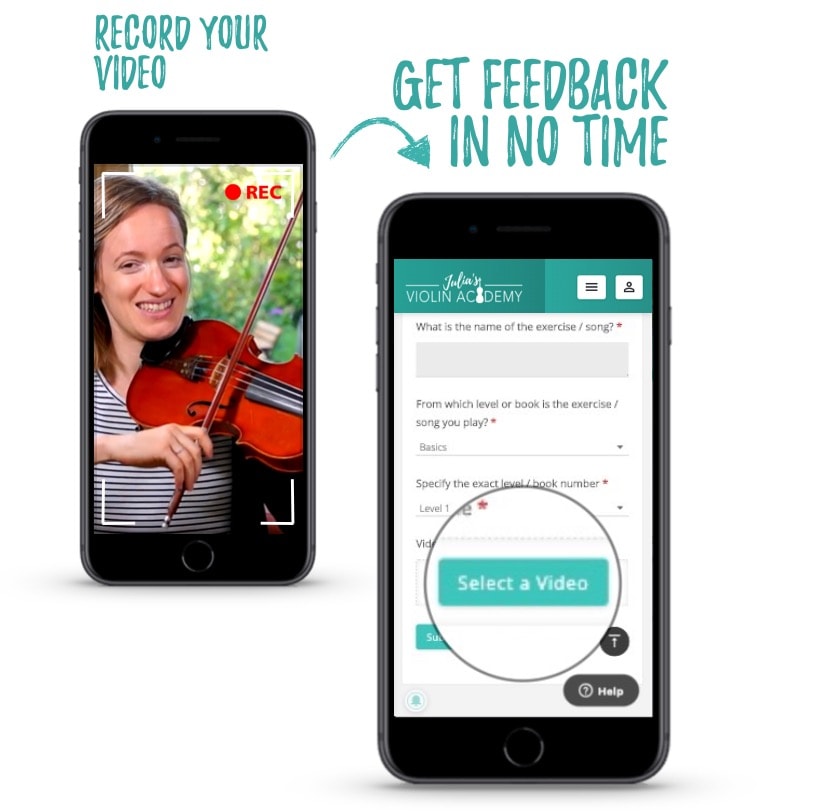 Are you ever doubting if you're "doing it right"?
Julia's Violin Academy offers possibilities to submit YOUR student videos for feedback and join live classes that are dedicated to give answers to your questions.
We're here for you every step of the way.
Our number one goal is to make you a better violin player, and we will never give up on you!
When you become a student here at Julia's Violin Academy, no matter where you are on your journey to becoming a great violin player, you'll be able to connect with, get direct help, feedback, motivation and support from your fellow students every step of the way on our community forums.
Ask your questions, share your wins & connect with Julia and other students in the community forums.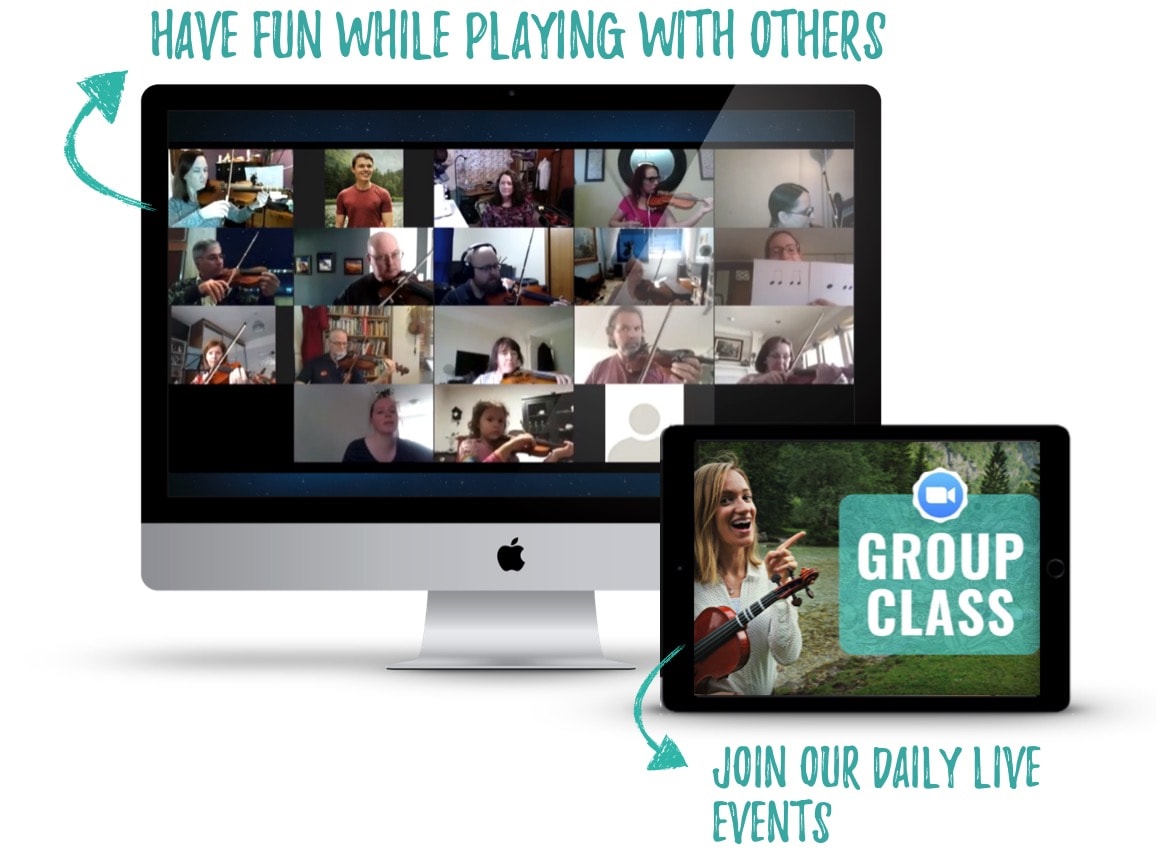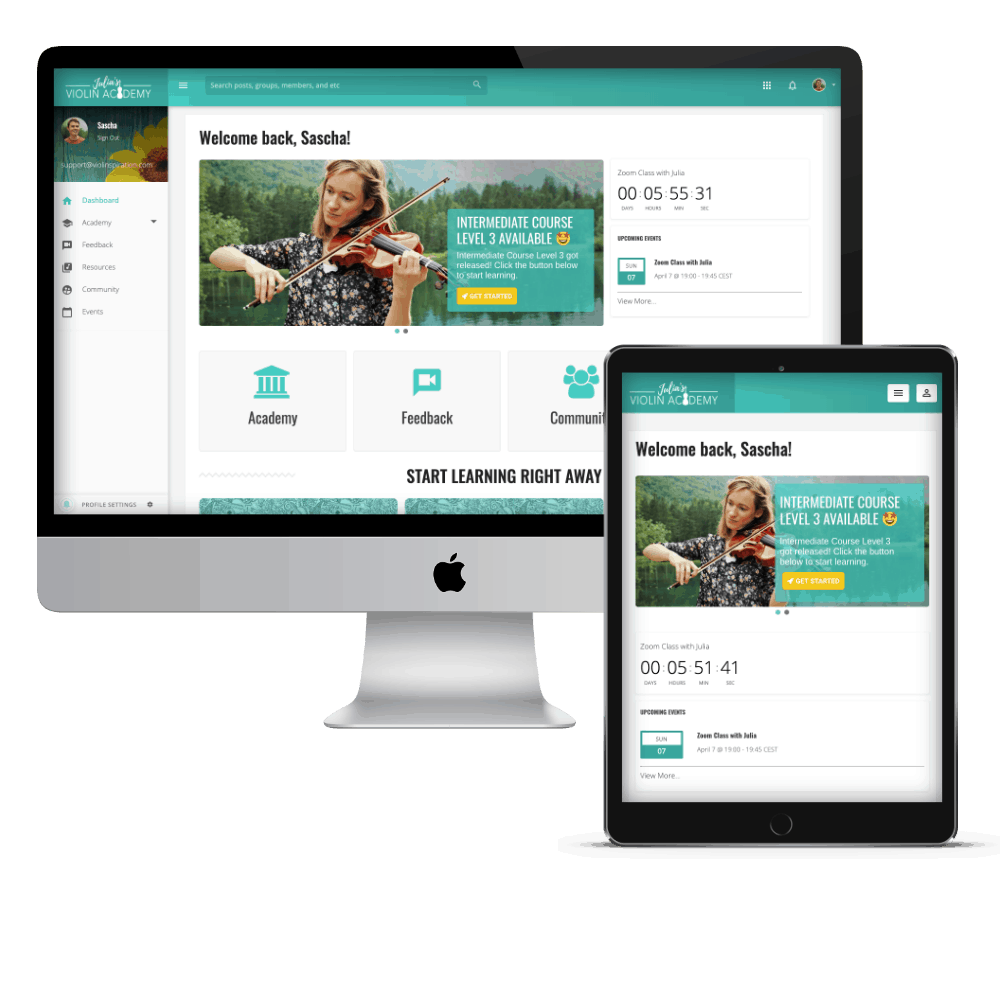 Our online events are a vital addition to Julia's Violin Academy. The events allow you to learn with Julia and our friendly academy members, in real-time from the comfort of your home.

"Joining the academy was the best investment I have ever made"
I am fulfilling a lifelong dream at 57 years of age. Bought a violin and started watching video tutorials hoping to learn to play. It was overwhelming with so many different teachers, styles and methods I soon became extremely frustrated and disheartened.
Then I found Julia Termeer and her amazing academy. Her enthusiasm, encouragement, step by step tutorials, online meeting sessions, structured learning method and so much more, just cannot be found anywhere else. Joining the academy was the best investment I have ever made. My violin playing is advancing in leaps and bounds. It has also enabled me to meet fellow students of all ages from across the globe.
Julia Termeer is so dedicated and her personal tutoring via video feedback is really instructional and is better than having a 'face-to-face' tutor. Being able to learn at my own pace by following a structured lesson plan instead of bouncing around not knowing what to do next has been a life saver (or should I say violin saver) for me. I also particularly love the fact that all the lessons in the academy are available to all students regardless of which course you chose.
If you miss an online tutoring/meeting session, not to worry. Julia records them all and makes them available to all students at anytime. If you love learning at your own pace, are looking for a personal 'online tutor', want to meet aspiring violinist from across the globe or are simply looking for encouragement and great feedback, you will love Julia's Violin Academy.
Julia's Violin Academy is a step-by-step learning system & community to learn the violin so you can become a well-rounded violin player and get confident playing with others
1. FIND YOUR LEARNING STAGE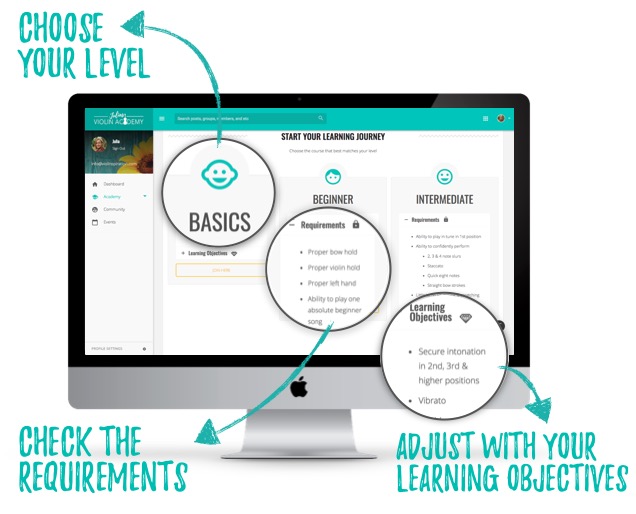 2. ACCESS YOUR WORKBOOK & PRACTICE PLAN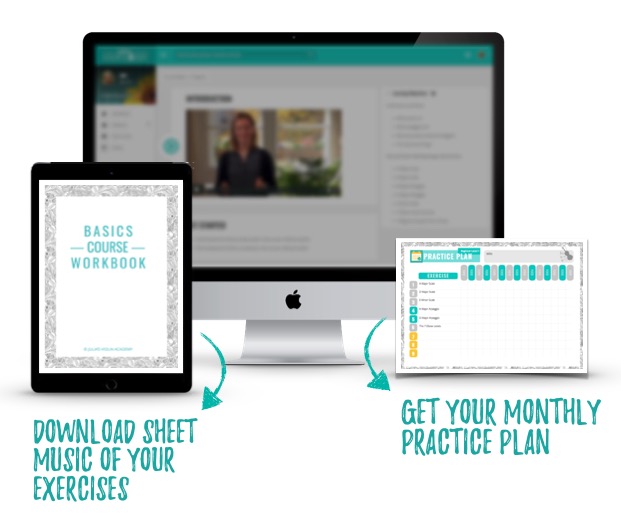 3. PRACTICE WITH THE VIDEO LESSONS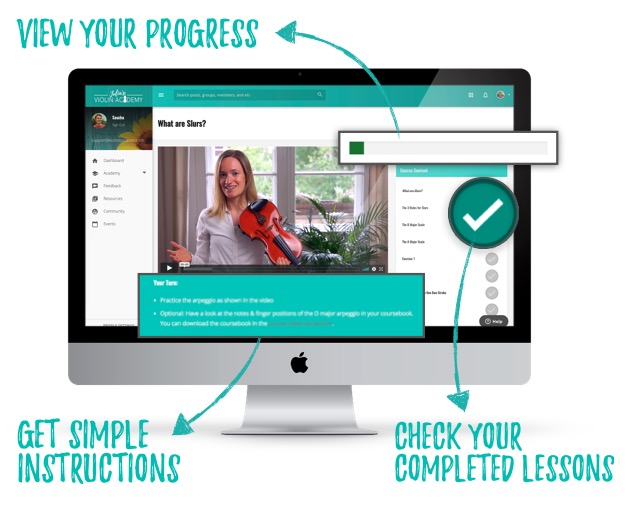 4. GET FEEDBACK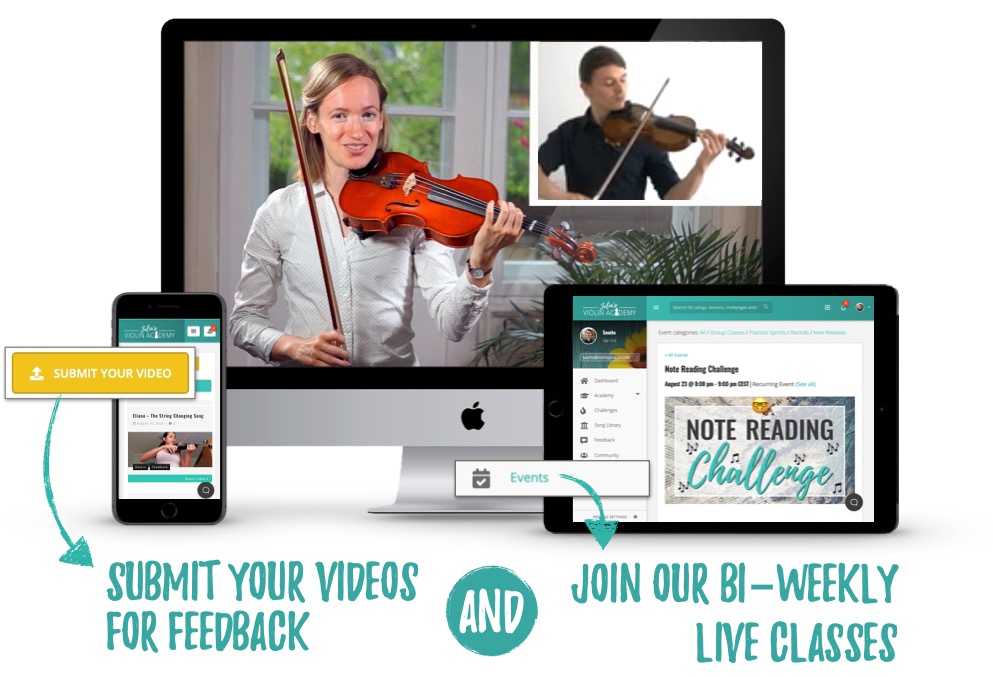 WATCH THE PROGRESS OF OUR MEMBERS
Shari started playing the violin a few years ago. It's just amazing to see how she has developed her violin skills.
Christopher joined Julia's Violin Academy a few years ago. Since then he made enormous progress. Watch what he's learned so far!
Angelina started her violin journey in her 50's. Watch the video and hear how she's improved!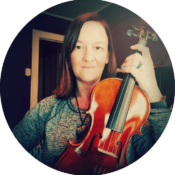 "This Academy has been life changing for me!"
I will be totally honest, I was very skeptical at first. I didn't think trying to learn Violin like this online was really possible. I had so many questions!
"Is this legitimate?"
"Can I really learn like this?"
"Is the instructor REALLY going to be actively involved?"
"Is this really worth the money?"
The answers to my questions are all YES!
YES it is legitimate, YES I really can learn like this' YES Julia is very active in the group and the community is outstanding! YES it really is worth the money!
We have video live classes, we meet up almost daily for Practice Sprints where we practice for an hour together, we are able to post to the Facebook group and get real feedback from peers and even Julia! There is so much more this Academy has to offer as well!
I highly recommend this Academy whether you are a brand new beginner like myself or a seasoned player on a higher level like some others in the group.
I am so happy I found Julia's Violin Academy!
WHAT OTHER MEMBERS ARE SAYING
4.9


My experience from the violin academy
Your guy's violin academy has been always helpful and has provided all the support and learning materials required for a student to progress. I personally think that is very crucial as it plays a main role, when it comes to learning music. I so love the experience to contact you guy's over email. Thank you all!
Laura
5 months ago

Observations From A Newly Enrolled Student
Although I am both a new student at JVA (20 days and counting) and relatively new to music learning--despite my advanced age of 74--I am a life-long learner and a teacher in a former life. I know the difference between effective, structured learning and a scatter-shot approach and I have been very impressed with the materials and options included for all students at Julia's Violin Academy. I've always considered myself more of an independent learner--not much of a joiner--yet I find the JVA materials both inviting and engaging, a feat not easily accomplished through online learning platforms. The JVA approach is one that I can highly recommend.
Mik Mikitik
5 months ago

The challenge
Howdy folks; My name is Verle Coon, I'm working on Lynda's (my wife) computer, that's why her name appears from time to time. I'm the violin student, not her. After trying to teach myself how to play the violin with books and the free stuff on the internet I could see that there was no planned step by step continuity with each adding to previous steps. I like the planned progression.
Lynda Coon
6 months ago

Warm and Professional
At Julia's Violin Academy, I find a friendly and supportive atmosphere where every aspect is geared toward encouraging me to be a better violinist. Julia and Team are warm professionals whose passion for the music and students is obvious in each lesson, video and practice plan. My inquiries receive prompt and accurate responses, and their emails keep me abreast of online activities and upcoming events. I am happy with JVA's amiable environment and affable climate.
Todd Middleton
7 months ago

Excellent courses. Super feedback. I would definitely recommend these to anyone who wants to learn violin. Julia is awesome.
David Leet
7 months ago

I strongly recommend 'Julia's violin Academy
I strongly recommend 'Julia's violin Academy', for each of you who wants to play violin or get better at it. The first thing that comes to my mind is 'COMPLETE'. I think that Julia and her team took a lot of time to build this school because nothing had be forgotten. You will learn at your own pace and level, with a great supervision, in an interactive, warm and encouraging atmosphere. What I like the most is being able to play violin with Julia, and to benefit of all the tools she made available to learn. I am still discovered them. In a few weeks, I have made a lot of progress and I'm very happy to know Julia and her Academy. I was searching since a very long time for that kind of learning. WORTH EVERY PENNY…. Je suis très heureuse de connaître les cours de violon...
read more
helene Giroux
7 months ago

Christopher is Machinist that started playing the violin 4 years ago.
Annette was a barber for most of her life. She started playing the violin after retirement and is a member of Julia's Violin Academy since May 2019.
Shari is a psychologist and lifestyle blogger. She joined Julia's Violin Academy and started playing the violin a few years ago
FREQUENTLY ASKED QUESTIONS
I am an absolute beginner - is the Academy right for me?
Absolutely – the Academy covers every stage of learning the violin – from the very start where you just got a violin. In fact now is the perfect time for you to join the Academy; as not only do we have training that will take you through every step, but you'll also be able to get feedback and advice from Julia and your fellow students too, to help you through your journey.
How often do you release new lessons?
Every month a new full course is added to our Learning System. I also constantly release add-ons such as recordings of masterclasses on specific topics, sheet music and play-alongs. Also, each month there will be many new live events, such as feedback sessions, live classes & practice meet-ups.
How much daily practice do you expect from me?
Some of our members practice as much as 3 hours a day and others are just able to practice on weekends. Our Learning System is accessible 24/7 and that you can move through as slowly or as quickly as you want to. You can join the additional group classes and feedback sessions with Julia whenever you want, but never have to. The flexibility of the program makes it so that you easily fit your lessons into your weekly schedule.
How many live events do you run each week?
It depends on the week, however most weeks we run live classes, feedback sessions & practice sessions 4-5 times a week. You can participate to these events as little or as often as you like! Our live events are a great way to connect with your peers, ask for direct feedback from Julia and to get motivated to practice – after all, it's much more fun to practice together than on your own!
Any contracts or commitments?
Nope. You can cancel your account anytime – for any reason. If you cancel before the end of the billing period, you'll retain access until that period is over.
What time do the group classes take place?
Since most of our members are based in the US and Europe, our group classes take place on times that are most suitable for these time zones. Our classes normally take place between 16:00 and 20:00 GMT+1 on weekends.
However, we make a recording available after each group class, so if you can't participate live you can still re-watch the lesson afterwards.
Will I get personal access to Julia?
Yes. Julia is very active in our community and answers all questions personally. You will be able to join bi-monthly live classes where you can directly talk with Julia.
Can I access the Academy on iPad / iPhone / Android / ….?
Yes. You can access all lesson materials 24/7 across all devices.
Do the private feedback sessions cost extra?
No, this is all included in your membership of the Academy. You'll get individual feedback on your playing videos and access to all live classes with Julia at no extra cost.
What is available to me as soon as I sign up?
You'll be able to jump into our Learning System which is a fundamental learning path that guides you through everything you need to learn to play the violin beautifully. Included in our learning system are: explanation videos, play-alongs, workbooks, practice plans, worksheets and everything else you need to learn. You'll also be able to send your videos to Julia to get individual feedback and practice advice and join our weekly-ish group classes.
What style does Julia's Violin Academy focus on?
In our Learning System we work on developing basic techniques that can be applied to all styles. The pieces most of our members work on are primarily classical, Irish fiddle, film music & pop songs.
I don't live in Europe. Can I sign up?
Of course! We've got members from all over the world.
What does it cost to be a member?
It's currently $65 USD per month to become a member (quarterly paid).
You can also save 20% if you become a member of Julia's Violin Academy for a year. Then the monthly membership fee decreases to $49 USD per month. In this case, you will save $192 yearly in comparison to the monthly membership.
Do you offer any refunds or guarantees?
We stand behind our promises. If you found out after sign-up that you aren't 100% satisfied in any way, we will directly refund your money (no questions asked). See also our
Refund Policy
.
I already have a violin teacher. Does this interfere?
Not at all! We've got members who already have a violin teacher and they benefit a lot. Your violin teacher is probably limited for 45 minutes per week – our academy is open 24/7. Our supportive community, our communal practice sessions & additional feedback will help you to get more motivated to practice during the week & help you get as best prepared for your private lessons as you can be!